Planning
We comment on national legislation and respond to government consultations, for example within the last year, the Planning White Paper, Statements of Community Involvement, Statutory Consultee Status and Permitted Development Rights.
We have responded to each stage of consultation on the Bradford Local Plan and have been involved from its inception in the Ilkley Neighbourhood Plan.
We scrutinise and comment as necessary on every planning application submitted in Ilkley ward. Many of our comments are positive and encourage owners and developers to aspire to make improvements to their plans.
We keep an eye on our local area and report to Enforcement those developments which appear to have gone ahead without planning permission.
We run an annual design competition to encourage good quality developments in our town.
We keep a particular watch on the three conservation areas and from time to time suggest buildings for Historic England listing.
At present planning applications are running at a high level and we are probably reviewing 500 a year. All of our comments are available to the public and we are happy to discuss plans with owners, developers, neighbours and civic society members when needed.
If you have a planning query, please contact us on This email address is being protected from spambots. You need JavaScript enabled to view it.
Our response to Bradford Local Plan Reg 18 Consultation on development sites 2021_03_LOCAL_PLAN_COMMENTS_WEB_SITE_VERSION_2.pdf
Story of Wool - Listed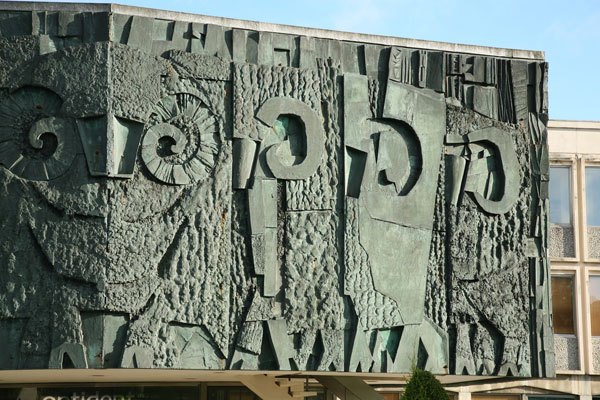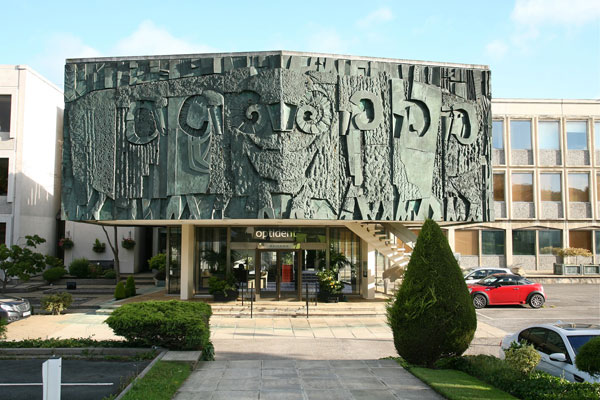 THE STORY OF WOOL – THE SCULPTURAL MURAL LISTED FOR ITS ARTISTIC, CULTURAL AND HISTORICAL IMPORTANCE
The 'Story of Wool', the sculptural mural which is located at the International Development Centre on Valley Drive, Ilkley has been listed Grade II by Historic England. The mural was created in 1968 by William Mitchell for the International Wool Secretariat which then occupied the building. It is produced in bronze-faced glass reinforced plastic (GRP) and is located on the front wall of the lecture theatre of the former technical centre.
William Mitchell is a leading public artist in the post-war period who designed many pieces of art in the public realm and was highly skilled in using mundane materials, such as concrete and glass reinforced plastic (GRP), in imaginative and innovative ways. The mural's aesthetic quality is in the bold design which depicts an abstracted flock of monumental, sculptural sheep with side panels representing manufacturing processes and the scientific analysis of wool. Its historic interest is the sense of place inherent in the design, which has historic resonance and is relevant both in its general and specific locations, being situated in the West Riding of Yorkshire, historically the main centre of the woollen industry in the United Kingdom, and at what in 1968 was the new technical centre of the International Wool Secretariat, an organisation formed to promote the use of wool.
Mitchell designed the mural of sculptured panels to tell 'The Story of Wool'. The front panel represents a central ram flanked by interlocking ewes. The side panels are more abstract, representing manufacture on the left-hand side and the structure of wool fibre on the right-hand side, with patterns formed by tangles of wool and images of its fine structure as revealed by microscopy, electron microscopy and X-ray crystallography. The approximately 2.3m high panels were produced in Mitchell's workshop in Forest Hill, London, and delivered to the site for fixing.
The mural was constructed using bronze-faced, glass reinforced plastic (GRP) as the finished artwork rather than as a mould, a method Mitchell had pioneered the year before for the doors at the Metropolitan Cathedral of Christ the King in Liverpool.
William Mitchell is recognised as an important artist whose work will be featured at Historic England's first major exhibition, Out There: Our Post-War Public Art, which opens at Somerset House in London on 3rd February 2016. The exhibition examines the aspirations, role, design, commissioning and legacy of sculptural art for public spaces and buildings. Work by Barbara Hepworth, Henry Moore, Ralph Brown, Geoffrey Clarke, William Mitchell, Elisabeth Frink and Paul Mount will be featured. Out There celebrates England's fascinating yet forgotten national collection of public art.
William Mitchell (born 1925) was a leading public artist of the 20th Century who had studied art at the Southern College of Art, Portsmouth and at the Royal College of Art. He established the William Mitchell Design Consultants group and produced sculptures, relief murals and mosaics using a wide variety of materials, but often using concrete. From 1953-65 he had been employed as an artist by the London County Council, along with Antony Holloway (1928-2000). Mainly due to his specialisation in the casting of concrete relief sculpture he worked with many architects, including Sir Basil Spence and Sir Frederick Gibberd. A number of Mitchell's commissions have been listed. There are also works by him included as part of the special interest of listed buildings, such as the CIS tower, Manchester, Liverpool's Roman Catholic Cathedral, the Roman Catholic Cathedral, Clifton, Bristol, the Egyptian escalator at Harrods, Knightsbridge, London, and the auditorium of the Curzon Cinema in Mayfair, London.
Mitchell was described as 'Designer, Craftsman, Genius' in The Architect in Dec 1975.
Ilkley Civic Society members with others who campaigned for the listing are very pleased that the mural has been recognised.
'It's an important piece of work by an artist who deserves to be better known. We are fortunate in Ilkley to have such a piece on public display' said Helen Kidman, chair of the society.
'Helen Etchell, volunteer with Ilkley Arts worked closely with the Civic Society in support of the sculpture being listed. 'We are delighted that this important artwork is being formally recognised and that the listing will enable it to be safeguarded for future generations' said Sarah Thomas, Chair of Ilkley Arts.'
Some 41 works of art including 'The Story of Wool' were listed by Historic England this week receiving national publicity in the press and media https://www.bbc.co.uk/news/magazine-35352595